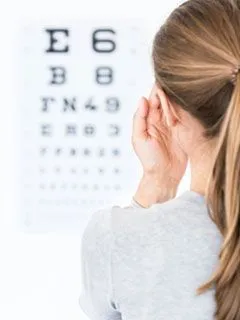 At Harbison Eye Care, our mission is to provide advanced vision care to the surrounding Philadelphia areas in a professional and comfortable environment. Our Optometrists specialize in primary eye care services which include analyzing eye health and visual functions and prescribing glasses and contact lenses. Expert opticians and optical staff take the time to discuss different frame and lens options that cater to our patients' every day needs. In addition to routine care, our professional Optometric team provides specialty testing for glaucoma, cataracts and macular degeneration. We also work closely with other Philadelphia medical professionals to offer pre- and post-operative care.
Eye Exams
The Harbison Eye Care team recommends yearly comprehensive eye exams. Our Philadelphia eye care professionals thoroughly review patient history, perform a series of vision tests including assessments of ocular focusing and movements, and evaluate eye health. With our up-to-date technology, we now offer digital screening options and additional testing that may be needed to diagnose or treat numerous eye conditions or diseases. Call us today at 267-360-6944 to schedule an appointment.
Contact Lenses
Not sure that glasses are for you? Ask our staff about contact lenses. Advances in the field of optometry have produced a variety of different types of contact lenses with a range of benefits. At Harbison Eye Care, we offer standard contact lenses as well as specialty fittings including Rigid Gas Permeable (RGP) contacts and multifocal/bifocal contacts. Our Optometrist will discuss the various contact lens options including which type will best fit your individual needs. Schedule your examination today by calling 267-360-6944. There are many advantages to consider when determining if contact lenses are right for you and our knowledgeable staff is here to answer any questions.
Lasik
Laser Assisted in Situ Keratomileusis, commonly referred to as LASIK, is a surgical alternative to glasses or contact lenses. Like glasses or contact lenses, LASIK is a method for treating refractive conditions including nearsightedness (myopia), farsightedness (hyperopia), and astigmatism. At Harbison Eye Care, our optometric staff provides pre- and post-operative care for LASIK and other surgical procedures. Call us at 267-360-6944 today and schedule an examination to determine whether you are a candidate for LASIK.